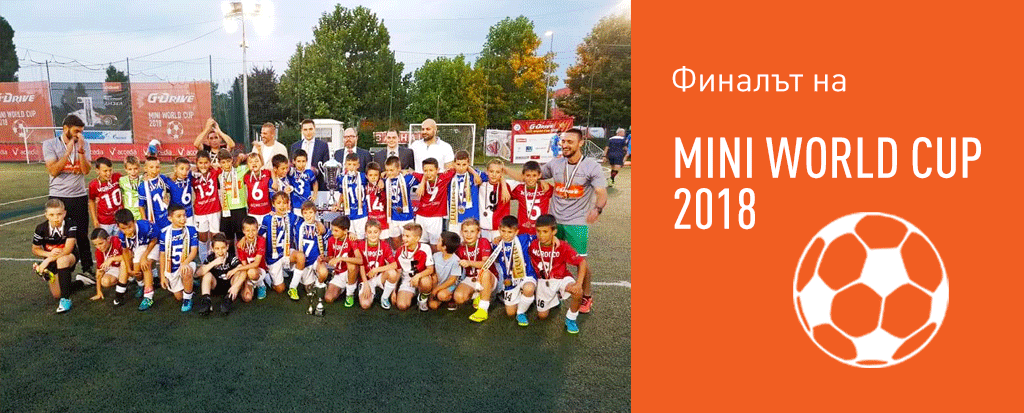 On 13.07.2018 the final game of the G-DRIVE Mini World Championship, organized by the Bulgarian Mini Football Association under the patronage of the Russian Embassy in Bulgaria and with the general sponsorship of NIS Petrol EOOD (Gazprom Petrol Stations).
The tournament took place in parallel with the World Football Championship in Russia. Each children team from Bulgaria will represent a country played on the mondeal in Russia.
Children from 32 teams played in the tournament. In battle for the first place, the teams of Japan (National) and Colombia (Tsarsko Selo) met in the final. In the disputed match, Japan (National) won 2-1 with a goal in the last minutes of regular time.
The organizers, sponsors and the audience unanimously said that the incredible game of the children has turned the tournament into a forum for showing the young football hopes of Bulgaria where they could show their incredible skills and talent.
 "There was a great tournament in which we saw many talented Bulgarian children who played with passion and desire for victory. We believe that such championships contribute to the development of small football talents. I wish the kids a successful realization in the biggest European clubs" said Ivan Kostadinov, General Manager of NIS Petrol EOOD.
At the award ceremony, congratulations to the young participants and their coaches were also addressed by the Embassy of the Russian Federation and the Russian Cultural Center in Bulgaria.
The general sponsor of the G-DRIVE Mini World Championship, NIS Petrol EOOD, was awarded a prize for "Thanksgiving for the development of children's football in Bulgaria".